Discover the largest gothic cathedral : Notre Dame d'Amiens.
Until november 2020, come and celebrate its 800th anniversary.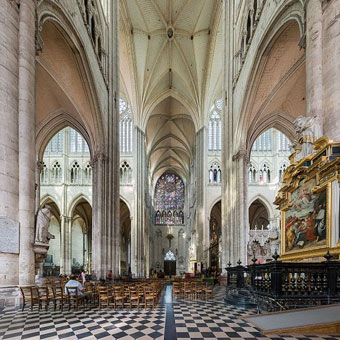 Schedule
April, may, june and september
Accompanied visit at 3 pm and 4.30 pm
except Saturday and Sunday.
Free visit from 2.30 pm to 5.15 pm on Saturday and Sunday.
July and August
Guided tour at 11am
Visite libre de 14h30 à 17h15
October 1st to March 31
Visit to the treasure : 2 pm (instead of 2:30 pm)
Visit of the towers : 3:30 pm (instead of 3:45 pm)
Treasure Room
Schedules of Visits :
11:00 am and 2:30 pm
Closed on Tuesdays, Sunday mornings, during religious ceremonies and the last Sunday of September, January 1, May 1 and December 25.